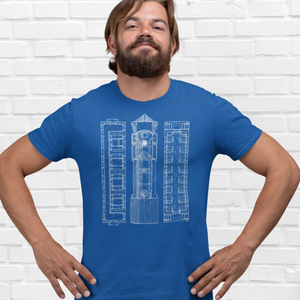 Steam Locomotive T-Shirt and PDF
Tell me your best train encounter or story in the comments! One that happened to you, or one that you would like to run someday.


I'm going to randomly choose a few people who have commented and send them a FREE "Steam Locomotive Blueprint" t-shirt! 🎁


The Steam Locomotive Blueprint t-shirt is a unique design by Ross McConnell of 2-Minute Tabletop. It is available in Blue or Black (sizes: S to 3XL) in the 2-Minute Tabletop Merchandise Store here...


The Steam Locomotive PDF, with black & white and color versions and several square and hex grid options. To see how these grid and color options are applied, please check out our Printing Guide.
Prints on a single US Letter or A4 sheet.
The Steam Locomotive PNGs, ready for Roll20, Fantasy Grounds, or another virtual tabletop.
- Steam Locomotive
- Train Exhaust, Smoke
- Coal Car
---